What to Gift Your Escort This Holiday Season? | Harrogate Escort VIP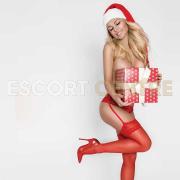 By no means is buying a gift for your escort a client's obligation. However, many clients have that one escort they would love to treat with something special because, well, she did so many nice things for them, right?
Gifting your escort is no news in professional dating, but in doing so, you'll have to figure out which present works the best for your date. On one hand, you don't want to make your escort uncomfortable with a certain gift, and on the other, you want to find the best way to express your appreciation and gratitude.
So, which gifts make the most suitable to present your escort date with? With the coming of the holiday season, here are various escort gift ideas to help you make the right statement.
1. Foods and Drinks
Aside from your dinner date booking, food and drinks can also make a great and specialized gift for your escort date. For instance, you are welcome to order a custom-made chocolate box for your date or you can choose a nice bottle of champagne or wine. In choosing your gift, ensure you don't go for the cheapest option available. After all, a great gift speaks for itself.
2. Flowers
A nice bouquet of flowers will always cheer up your escort date. However, flowers are considered a more 'common' gift for your escort, so don't limit yourself to buying flowers during the festive season only. If you find no point in getting your escort flowers, you can also get her a plant she loves, but first, ensure she's alright with accepting this kind of present.
3. Spa Products 
From bath salts to fragrant oils and body lotions, escorts are known for pampering themselves, so a spa gift might come more as welcome. As for the scent, the simplest way to nail it is to ask your escort for preferences or give her a choice between, say, lavender or vanilla. In addition, you don't really have to go for any scented presents, but simply give your escort a spa coupon to use it whenever.
4. Lingerie
Escorts are huge fans of classy and sassy lingerie, so consider it a great gift idea for the holidays. In choosing lingerie, always go for something simplistic yet impactful and ensure you get the size right. If not, make sure your escort can replace her gift and get a more suiting size. A more elegant version of lingerie would be sexy nightwear, so also consider getting your escort a pair of silky pyjamas for when she's staying over.
For more weekly blog vist the weekly blog at Escort Centre.