4 Things to Know Before Booking an Overnight Escort Date!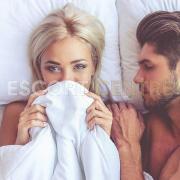 Extended escort experiences come with plenty of benefits for clients interested in a full-on, all-night-long dating. Unlike other experiences, an overnight stay with an escort can be a versatile booking that aims to provide you with many different things- from simple female company to the GFE, overnight travel dating and more.
Depending on what you want out of your overnight escort date, there are several things you should consider ahead of time. That said, these 4 rules of overnight escort dates will help you have the ultimate extended encounter- anywhere and anytime!
A Premium Rate
Unlike an hour-long dinner date, an overnight date with an escort will naturally come at a higher price. An overnight stay scenario is typically a step above and beyond from the services escorts usually offer, hence the difference in price. Escorts usually work with busy schedules, so taking an entire day off to spend with one particular client will expectedly cost more than other escort services.
Overnight Dating Doesn't (Always) Entail Sex
Overnight stay arrangements don't explicitly include sexual activities or physical intimacy. Although an all-night-long scenario, an overnight stay can take many different shapes and forms. Typically, overnight dates include dining around town, doing activities together, and then, coming back to your hotel or home to spend the night. So, unless previously discussed and agreed upon with your escort, avoid demanding intercourse as part of the service you booked.
A List of Activities
As mentioned above, the goal of an overnight escort date is to have a day filled with activities together and then, have her sleep over at your place. Escorts, much like regular dates, like to feel connected to you and want to build that much-needed intimacy, which is where outings and leisure activities come very helpful. No matter your preferences, come up with a list of activities you want to do with your escort and go over them together to find the ultimate middle ground.
The Perfect Arrangement
If you are booking an overnight stay with an escort you have never met before, you will need a lot more time to get to know one another and bond properly. However, when you have already dated an escort before, booking an overnight stay will not feel awkward or uncomfortable at all. As an initial service to book, an overnight stay might demand more effort on your part. If you haven't dated a professional escort before, we suggest you book a few dinner dates and outings first, thus transitioning into overnight stays with more ease.
Source: https://skipthegames.com/articles/about-escorts/extended-encounters-13-things-clients-need-to-know-to-ensure-positive-experience
Beat Your Boredom BY Visit Our Weekly Blog For News, Tips & Advise!