4 Games to Spice Up Your Escort Date!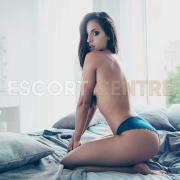 Booking an escort date over the holidays is an exceptionally beneficial way to find yourself among the sultriest female companions in Yorkshire. However, given present circumstances, a face-to-face escort dating might not be an option, but then, you can always book yourself a video or phone call date.

Although limited in actual physical pleasure, phone and video escort calls can be superb for clients who like dating outside the norm. And what better way to kick off your virtual date than to play a round of the sexiest games ever?
No worries, we have everything all set up for you- here are 4 seductive and flirty games to play with your escort and get in a proper festive mood!
Blindfolds
If you opt for a video camera date, using blindfolds will help increase tension and arousal. You can wear a blindfold along with your escort, or take turns in wearing one. While wearing a blindfold, you can instruct your escort to just listen and guess (the toy, the action, etc.) or you can ask her to interact more and dirty talk or pleasure herself. Yum, yum.
The Yes, No, Maybe Game
Superb for intimate play and uncovering your fantasies, the Yes, No, Maybe game is simple to play. Write up a list of fantasies and have your escort do the same. Be wild and sensual and don't be afraid to explore a certain fetish. Once written, share your fantasies and categorize them in a Yes, No, or Maybe file, depending on what you are comfortable doing. As soon as a few yeses pop up, you got yourself a mutual fantasy to fulfil- go for it.
Role Play
Just because you are on the phone, it doesn't mean that you cannot indulge in role-playing. Easy to pull off just about anywhere, role-playing allows you to create a sexy persona you like and play it out with your date. Again, if some role-play scenarios are too farfetched for you, a game of yes-no-maybe will help you decide what to enact instead.
Complete Strangers
This scenario is quite interesting because, with escorts, it is always doing something with a stranger, right? Therefore, pick and escort you haven't dated before and let your date unravel by talking on the phone or having a drink on-screen. Not knowing someone that well can be a very erotic triggers, as it allows you to play risky while playing safe.
Source: https://theprincessfantasy.com/blogs/news/10-dirty-sex-games-for-more-intense-passionate-sex?_pos=3&_sid=84e196d70&_ss=r